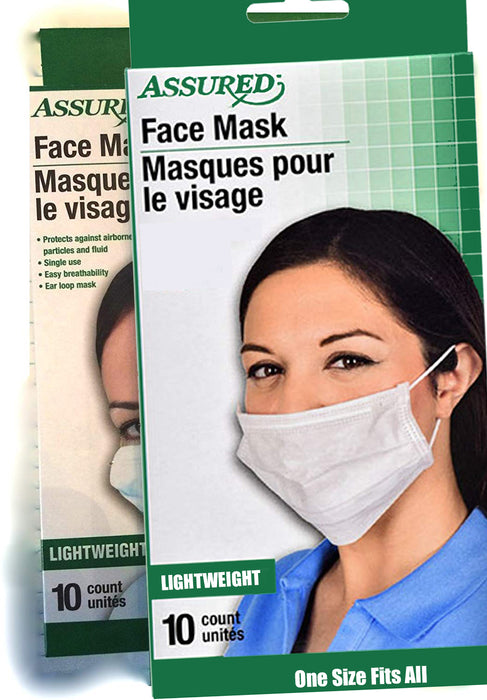 Assured Face Mask Protector Against Airborne Particles and Flu - 2 Boxes of 10 (20 Masks Total)
Assured Face Masks 10 Ct (2 - Boxes)

10 count per pack. 

Breathe easy with these disposable medical face masks.

They attach to the face easily and comfortably with the elastic ear loops.

Designed to give protection against air-born germs, these disposable face masks are soft and allow an easy air flow so the user can breathe freely. 

Features

❤️ 3 Layers of Thick Material: The mask is made of 3 layers of high-quality non-woven fabric; it has a stronger filtering effect and is more warm and breathable

❤️Uniquely Designed: Comfortable elastic earloop,extra-soft ear loops eliminate pressure to the ears. Inner layer is made of soft facial tissue, no dye, gentle to the skin.

❤️One Size Fits Most:Dimension 17cm x 9.5cm,with extra stretch,Use of elastic ear loops means that it fits most people

❤️ Protects against airborne particlues and fluids, Widely Application: In the hospitals, restaurants, beauty salons, nail shops, pet shops and cleaning as well as other environments that require respiratory protection.